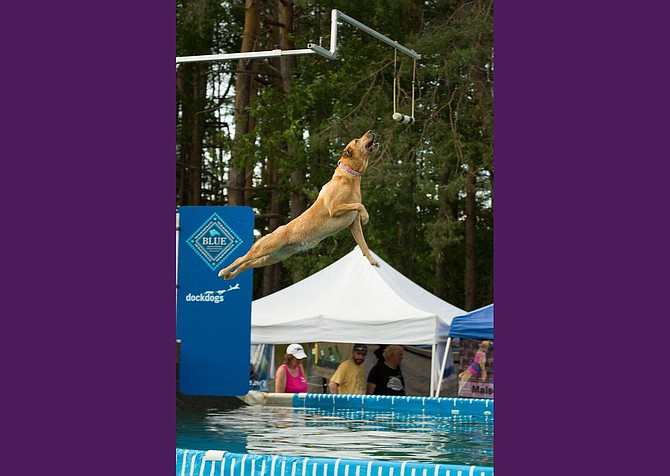 A dog entered in a dog diving competition sponsored by the Hudson Valley Dock Dogs leaps to catch a lure before plunging into a pool during an event at Adirondack Woof Stock 2015 in Chestertown this weekend. The festival, billed as "a weekend of peace, paws and music," drew an estimated 2,500 or more to town for canine activities and a celebration of 1960s culture and music. Photo by Brandon Himoff
CHESTERTOWN — Hundreds of dogs took leaping dives into water, ran through obstacle courses and frolicked as they caught Frisbees during the two-day Adirondack Woof Stock event held this weekend on the field behind the town of Chester Municipal Center.
Event founder and organizer Cindy Mead estimated that 2,500 to 3,500 people and more than 1,000 dogs visited the festival over the weekend.
"We are thrilled with the public response," she said. "The weekend was all about fun for dogs and their owners, along with 1960s music — Everything exceeded our expectations"…
http://www.denpubs.com/news/2015/jun/24/woof-stock-draws-crowd-chestertown/